10-17-2020, 02:02 PM
(This post was last modified: 10-17-2020 02:12 PM by LionTurtle91.)
Post: #1
LionTurtle91


You leave my friend alone!!


Posts: 2,148
Joined: Sep 2011
Reputation: 201
Poison Gas Grenades
Good afternoon old friends,
It's been awhile. Things haven't been as bad where I am in Illinois compared to other places in the country. Of course, 20 mins over the border in Wisconsin and the lung aids are everywhere. I would commute to school in Kenosha, Wi before thing's got progressively worst, with Covid and social justice issues. There's tons of burnt down buildings and vehicles, spray painted messages on houses saying "kids live here". I just commute to school Thursdays for my labs, 1/4 capacity, everything else is virtual.
I'm 3 classes away from behind done with my Neuroscience major, I had planned to build a PC and had a good chunk of change aside to do so before everything went to hell. Then my laptop broke and I had to purchase a new one that could handle the large zoom sessions without having a heart attack.
https://www.bestbuy.com/site/acer-nitro-...Id=6413246
I added another 8gb ram, and whenever I have the money I'd like to keep upgrading. I'm sure I could have got more bang for the buck ($600 at the time), but it all happened near finals and from I read it was pretty upgradable.
If any of you have suggestions on good games that the laptops specs can handle I'd definitely be interested. I spend most of my time studying but I'd like to get into gaming more next year, by that I mean playing a shooter again, loosen up these dusty fingers.
Serial, I still have those brewing powerpoints
I tried sending them awhile ago but the file sizes were too large.
By the way I picked up ceramics as a new hobby, made a bong, a large chimney/grill, working on a tiered steamer right now (like those stackable bamboo ones).
Hope everyone is in good spirits given the state of everything.
Cheers
---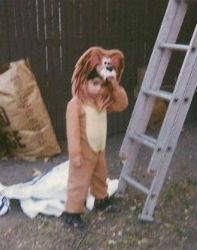 <---Me :-)
10-17-2020, 03:20 PM
(This post was last modified: 10-17-2020 03:21 PM by A-P-P-Baby.)
Post: #2
A-P-P-Baby
Poopcrobatics!!!


Posts: 4,702
Joined: Apr 2011
Reputation: 311
RE: Poison Gas Grenades
Holy shit LT. it's like that? Burnt buildings and spray painted messages? We can only hope the new normal turns out better than that at some point and doesn't dive deeper into chaos.
Things are pretty good north of the border. Our cases are nowhere near what's been happening in the states.
I'll be 40 next month! I've two kids now and I'm running a busy sign shop working lots. Covid didn't really affect me at all except I worked from home for a few weeks when the daycares shut down. But then we hired a nanny and we have basically been winning financially at the pandemic game.
What little free time I have I spend doing calligraphy these days. I haven't played anything beyond iPhone games in over 4 years.
---
10-17-2020, 07:13 PM
Post: #3
SerialNumber1221


THE REAL HEISENBERG


Posts: 3,681
Joined: Jan 2012
Reputation: 134
RE: Poison Gas Grenades
MrTurtle Haha building a PC? On the other hand I am totally console free except 1 XBOX Original for old school games and 1 PS1 original, brand new in the box, maybe for an antique sale in another 25 years! I even got rid of my MAG discs.

Your laptop should be able to handle most games. Using an external monitor (like 144hz), would give you better performance game wise than the laptop screen, and if your playing anything competitive you need an external keyboard (mechanical preferably) and a decent mouse (try a G502 with the adjustable weight - best competitive mouse out there). You said you already upped the RAM by 8gb so 16gb is enough usless you do things like stream from the same PC while playing. Even that would be fine with most games. Games like RDR 2, might struggle a little but that game is badly optimised and even high end PCs have a tough time with it. Your main issue as its a laptop, will be cooling and CPU throttling. You need to be a bit careful with games that max the CPU as you definitely do not want CPU throttling and burnout from excessive heat. That is the biggest risk in a laptop, that hardcore gaming will fry the CPU or burn out the MOSFET on the board.

Covid - Where I am, there is no virus. We had a spike up north of the island at the start of the pandemic, but they closed the borders quickly and got it well under control and eradicated it. We have been cut off from the mainland since March. I have nomissues if they keep us shut forever! Seeing what is going on in the EU, UK & US makes me glad I live where I do!

I haven't really gamed much in the last few months. Writing a game instead, a simulator of an old army gambling game called Two Up. Made really good progress so far, still finalising the betting system and jackpot system. UE4.

Happy Bday APP in advance, I too have a birthday soon, 47 in my case.
---
MURDER, was the case that they gave me.
10-17-2020, 07:51 PM
(This post was last modified: 10-17-2020 07:56 PM by SerialNumber1221.)
Post: #4
SerialNumber1221


THE REAL HEISENBERG


Posts: 3,681
Joined: Jan 2012
Reputation: 134
RE: Poison Gas Grenades
And Sea of Thieves is a really good game to try...It's a good blend of FPS and adventure. Definitely not a casual game if your into PvP and play it as a full tryhard, but also has relaxing PvE elements like fishing and megaladon hunting to make it fun as a casual game if you want it to be.

I play mostly with Icelanders and other Northern EU players who behave like Vikings so we just look for other ships to sink and steal their stuff, rather than doing voyage quests ourselves. Its a high risk/reward type play but its very intense if you come up against good crews. The repairing aspects and teamwork remind me of MAG and while it doesnt produce the same rush, its a different kind of rush in tense battles and its well worth a look.

The only issue with the game is that sometimes its hard to log off. Eg I have been in situations where we sunk a ship and stole their treasure, they spawn a new ship at a nearby port and try to sink us to get their stuff back, sometimes these chases go for hours. At times, its a frustrating thing because you just want to sell the stolen loot at port and log off, but you cant stop because someone is chasing you. Then you gotta be inventive, like sail around a large island and drop off your rowboat with all the loot and then keep sailing your ship away, hoping the chasing ship never saw the rowboat drop and they keep following your ship...i've been in chases that lasted over 8 hours!

If anyone does try it, its best to play with organised players, never crew with randoms. Join the official discord or one of the communities to find seasoned crew mates.

There are several factions in game and you take on work for them, levelling up. The main one to level is Athena. The others go up to lvl 75 i think, Athena goes to 20. I maxxed them all earlier in the year and haven't played since I hit max Athena rank. I am Pirate Legend and Legendary Thief titles, the latter being the hardest title in game to attain, related to stealing other peoples treasure. To get the Legendary Thief you have to stalk a ship on a specific quest and steal the very last chest they dig up. There is no way to know what quest a ship is doing unless you sneak aboard first and check their quest table.Then you gotta either follow them or alliance them and gank later.

Those quests typically take 5 hours or so for the ship you have to follow. The trick usually is to make friends with them and alliance up, then go rogue and kill them and steal the Athena chest. Very difficult and also can be morally challenging if you like the other crew, but you gotta be stone cold and remember why you are there, and for the title you have to do it a few times!

Good sandbox game with plenty to do and keep thinking about!
---
MURDER, was the case that they gave me.
10-17-2020, 08:25 PM
Post: #5
CptKirby
The not Logic Bomb!


Posts: 6,466
Joined: Apr 2011
Reputation: 199
RE: Poison Gas Grenades
Nice to see your doing relatively alright, LionTurtle. My life has been pretty uneventful aside from taking aviation mechanic classes.

Everyone is getting older, and so have I. Feels weird.
---
10-17-2020, 08:30 PM
Post: #6
SerialNumber1221


THE REAL HEISENBERG


Posts: 3,681
Joined: Jan 2012
Reputation: 134
RE: Poison Gas Grenades
Also for the beer recipes just pdf the ppt files?
---
MURDER, was the case that they gave me.
10-17-2020, 09:46 PM
Post: #7
MaddenUser
Senior Bittervet, BitterWarchief


Posts: 3,886
Joined: Feb 2012
Reputation: 214
RE: Poison Gas Grenades
I keep being told that covid will magically disappear on November 4th.
---
Yesterday, 02:32 AM
(This post was last modified: Yesterday 02:33 AM by SerialNumber1221.)
Post: #8
SerialNumber1221


THE REAL HEISENBERG


Posts: 3,681
Joined: Jan 2012
Reputation: 134
RE: Poison Gas Grenades
(10-17-2020 09:46 PM)

MaddenUser Wrote: I keep being told that covid will magically disappear on November 4th.
I read Breitbart daily and what I find amusing is that readers comments say the virus is a scam and it isn't real, but when Trump got it the same people said godspeed speedy recovery get well soon Mr P don't die on us because then deep state wins etc etc and then when he did recover fast they said it wasn't even as bad as the flu...so its fake, then its potentially deadly and then its not as bad as the flu. Ok.
The same people are now suggesting that Biden be locked up but what I find even more amusing is that Hillary didn't spend one day behind bars and yet these same people say all that was promised was delivered...I guess if complete chaos and being the laughing stock of the western world were the goals, the US has exceeded expectations. Well done, I guess
What a sick sick country. Nothing to do with pandemic either.
---
MURDER, was the case that they gave me.
User(s) browsing this thread: 1 Guest(s)